RISE stands for Resort Industry Student Experience and is the term for one of our company's college programs. It was developed to create a pipeline of awesome and diverse talent. RISE consists of several different experiences to meet the various needs of both our students, campus partners and our business.
The RISE Program provides the structure and resources to teach and develop talented students into successful career professionals through an immersive, holistic and dynamic learning experience in the hospitality industry. Click below to learn more.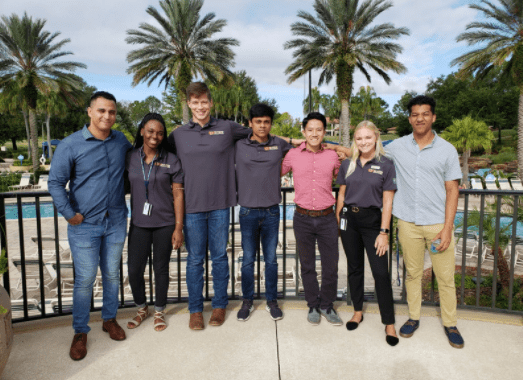 Why do students want to intern with us through the RISE Program? Students are looking for a lot of different things at this time in their lives. They may be looking to get exposed to the industry, maybe they need college credit, or some of them just want to make some extra money. Many times students see programs like this as a gateway into their career.
Part of your role as a leader is to ask them why they are here and help them achieve their goals.
Joining our company through RISE rather than a regular position helps students build connections with each other and be part of something bigger. We find that RISE attracts more students than traditional roles, but in exchange we offer students a great, student focused experience.
The Internship Experience is intended to be more robust than a regular seasonal role and student work experience. The purpose of the internship is to give students more of an inside look at what it's like to work in hospitality by offering cross training, insight into leadership roles, and projects in addition to the regular job in which they are hired. Internships also have training course requirements called academy days and a final presentation. These offerings are coordinated through ALD.
Why students choose RISE?
Students who participate in the RISE program are offered several different experiences as part of the program, including;
Real life experience working at a variety of functional areas within our company
Opportunities for housing on site (dependent on resort inventory)
Working with other RISErs who are of a similar age/experience group
Career coaching with the Academy of Learning and Development (ie help with their resume and interview tips)
Academy Seminars with ALD - required at least twice a month
Final presentation to leadership facilitated by ALD
Cross training/extra development from onsite team
The following are the types of students that typically take advantage of our Internship Experience:
Students looking for a robust learning experience
Students who are about to graduate
Students who have graduated within 6 months
Internship Experience Details
Interns take a little more time and energy during their program than work experience students, however, you'll find that these interns have a lot to give your team! They often make a big impact in a short amount of time. Internships are a great strategy for the long term growth of our company as well as helping to fill short term roles or for hiring extra help for specific projects. Leaders who are the most successful with this program are able to find the "sweet spot" between filling much needed roles or skill gaps in the department AND providing a great and well-rounded learning experience for the student. It is imperative that you plan out what the students internship experience will look like prior to their arrival. There are two successful principles we like to use to ensure our RISE interns have the best possible experience:
Support
Students who participate in the RISE program should be pursuing a career in the hospitality or tourism industry — they are figuring out what this career pipeline will look like and what route they may want to take. We ask that our RISE leaders lend support and cultivate conversation around career trajectory, previous experiences and offering of knowledge to assist in our interns making informed decisions about what they choose to do with their RISE experience. Additionally, utilization of the College Programs Manager within ALD is encouraged to make sure RISE leaders have support as well when hosting our interns.
Experience
All RISE Interns should be receiving the same experience across all our resorts and within the corporate office. We want our interns to go back to their home institutions and brag about how great the RISE program is and encourage their peers to apply! In order to secure this, we ask that all interns have a great experience — from onboarding to departure. Interns should arrive to their assigned location with an introduction to their assigned leader and knowledge of where to go on their first day. Throughout their internship, we ask that assigned leaders meet with their RISE intern(s) bi-weekly to ensure they are having a positive experience and provide feedback for their improvement. Opportunities to job shadow or rotate positions are also strongly encouraged to ensure that interns have a wide variety of experiences to draw from when they reflect on their time in the RISE program
Your Academy of Learning and Development partners and your Talent Acquisition partners are here to support you throughout this process and will help both you and your students be successful.
I recommend the RISE program to other leaders because I have not had a questionable candidate yet. The selection process is done in a manner that I have only seen great candidates!
I like to hire RISE interns because they are more focused on developing a long term relationship with one company and see HICV as a long term career path where they can realize their goals
I recommend the RISE program to other leaders because it allows for not only some extra hands to help push initiatives forward, but provides the ability to truly make the difference in a young professionals career while also cultivating a healthy learning environment internally to ensure growth of existing and new personnel.
Interns we hired 2 and 3 years ago are now managers and leaders in our operation. They are more goal and action oriented because they have a vested interest in their growth. Interns know that HICV is dedicated to growing future leaders and the company commits to their career development
It's what I like to call a trial period. An internship is a great way to see how much potential an intern has within the Hospitality field. We get a chanee to see their work ethic, knowledge, drive and learn about their goals which in turn can help the organization bring back these interns after graduation
At Scottsdale Resort we've had RISE interns in activities and at the front desk. And it's really had a positive impact on the resort overall. It's so exciting to have people here who want a career in hospitality…what I have found is it really has an impact on the current team members we have.
2023 Recruitment Timeline
| Season/Term | Request Form Deadline | Recruitment Timeline | Intended Start Dates | Internship Duration |
| --- | --- | --- | --- | --- |
| Spring | Friday, October 21st, 2022 | November - December | Early/Mid-January | 3 months, optional extension to 6 months |
| Summer | Friday, January 20th, 2023 | February - March | Mid/Late May | 3 months, optional extension to 6 months |
| Fall | Friday, May 19th, 2023 | June - July | Late August/Early September | 3 months, optional extension to 6 months |
Submit your request to participate in the RISE Program and identify your ideal role(s) along with time frame and duration.
Candidate application process
Application – Candidates will submit their application through hicv.com/careers which will include their resume and cover letter. Their cover letter should include what they hope to gain from their experience and what contributions they plan to make during their time here at Holiday Inn Club Vacations.
Review Period – Once our candidates have submitted both their application and entrance video, we will take the time to review their resume and responses to identify the best fit for next step.
Phone/Video Interview - Our favorite part, Live / In-person introductions via phone and / or video. Through conversation and Q&A, we will take the time to learn more about your candidate, assess their skills, and determine their potential. From here, we will identify your top candidates and will move forward with submitting to you our recommendations for Department/Leadership Interviews according to your availability.
Offer Letter– Following the selection of your ideal candidate, Your TA Partner will provide a verbal offer on your behalf followed by an electronic offer-letter. The candidate will review said offer which will state their title, anticipated start & end date and leadership contact information.
Pre-screening – As part of our new team member pre-screening process, candidates will complete a Criminal Background Check and may be required to complete additional screening processes depending on the specifics of their role such as a Motor Vehicle Records Check and/or Drug Screen.
Onboarding & week 1 expectations
Housing – If the new hire has selected to participate in our Housing offer, they will be given the opportunity to check-in the weekend before their week-day start (usually the Friday before their Monday start). A Housing agreement to the candidate must be signed and sent back prior to their check-in.
Orientations / Week 1– The honeymoon phase! Your intern's first week will be dedicated to our Company and RISE Program Orientations in addition to your team providing a tour of their work site/resort, training & expectations of their role, and introductions to your department and team
Frequently Asked Questions
Who gets to host interns?
If your department is willing to hire an intern and can support the position from a budget and management standpoint, you can host an intern! Check with your leader to get approval for the position and connect with your Talent Acquisition partner to begin the process.
Resorts and departments hosting inters are responsible for onboarding students to their departments and providing job skills training. All areas should be prepared with a plan to host an intern and help them learn and grow. Visit the "Hiring and intern requests" page for more details
How much do we pay interns?
Internship pay varies by resort and department however there are ranges which we encourage you to stay within depending on the role. Contact your Talent Acquisition partner for the standard ranges. If you feel you need to make adjustments to the ranges to stay competitive or be more fair compared to what current team members are making please reach out so we can discuss your options with our compensation team
Do students get housing at the resorts?
Offering housing is a great way to attract top notch talent however it is not required. Resorts with the ability to offer housing are encouraged to do so. We typically house multiple students in a villa and have a weekly amount deducted from students paycheck to cover costs. We have a housing agreement form that all students must sign which you can view in "Leader Resources"
How much time are students in Academy Seminars?
RISE Interns are required to attend Academy Seminars and Final Presentation Date offered exclusively to interns. Interns are required to register for either option A or option B for each course offerings. The class dates vary to accommodate different schedules however option A classes are held Tuesdays at 1:30PM EST (12:30 CT, 11:30 MT, 10:30 PT); option B classes are held Wednesday at 10:00 AM EST (9:00 CT, 8:00 MT, 7:00 PT). Students Students will pre-register for their seminars via email as sent by the Academy for Learning and Development so that you can create their work schedule around seminar courses
Are students paid for Academy Seminars?
Yes, since seminars are part of their internship, they are paid for their time. Interns should be allowed to attend seminars remotely from their home or villa. This will ensure that they are able to pay attention and participate with our facilitation team. The facilitation team will verify attendance and interns can submit time edit forms to get paid for their time.
What other opportunities does ALD offer to our Students?
RISE Interns are offered career coaching. Career coaching sessions can be scheduled through the RISE Student Portal and are a 1:1 coaching session with a member of ALD. We encourage all interns to set up career coaching sessions during their internship as in these sessions we offer to connect to interns with other resources and leaders within the company.
What happens to the student after their internship/work experience ends? What if I want to hire them?
Interns and Work Experience students may have the ability to stay with us. The purpose of RISE is to bring in talent to the company and provide a meaningful experience to students. If you think one of your RISE students should be hired into a permanent role please discuss this with them to see if they are able to stay whether it be with your resort or in a different location. The goal is to retain as many students as possible after their RISE experience.
Students can only stay on board with RISE for up to 6 months when they are hired into a seasonal role with the exception of some international students. Chat with your TA partner to find out more details about your student's eligibility.